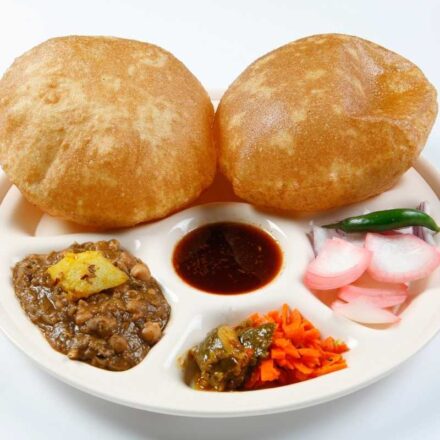 Chole bhature is a food dish popular in the Northern areas of the Indian subcontinent. It is a combination of chana masala and bhatura/puri, a deep-fried bread made from maida. Although it is known as a typical Punjabi dish, It is originally a culinary dish of Delhi and Uttar Pardesh
Start with one of our healthy but light appetizers, then move on to one of our mouth-watering dishes and enticing main meals. To initiate, vegetable-based appetizers are a wise choice. They add lovely splashes of color to your plate, highlight the flavors of the moment, and are light enough to make room for your main dish. Our collection of veggie finger foods includes a variety of recipes for appetizers that will appeal to you.
We make them by incorporating the best ingredients and incredible cooking techniques. They are tasty, healthy, and delicious to start your meal. Our vegetarian appetizers include many dishes made of multiple ingredients. The dishes made of fresh potatoes work as great appetizers; however, they are extremely delicious. You can enjoy deliciously prepared Aloo Tikki, Aloo Tikki with Channa, fries, etc. This amazing collection of starters makes the ideal finger food to feed a large group and a quick snack before dinner.
Other appetizers include Amritsari Kulcha, Channa Bhatura, and Channa Puri. If you are a spice lover, we offer exciting receipts such as Chat papdi, Dahi Bhalla, paneer tikka, samosa vegetables, vegetable pakora, spring rolls, and more. All our dishes are made with a perfect combination of fresh vegetables, spices, and herbs. You will love the taste as our professional cooks make them. However, these appetizers will increase your hunger and prepare you well for the main course.